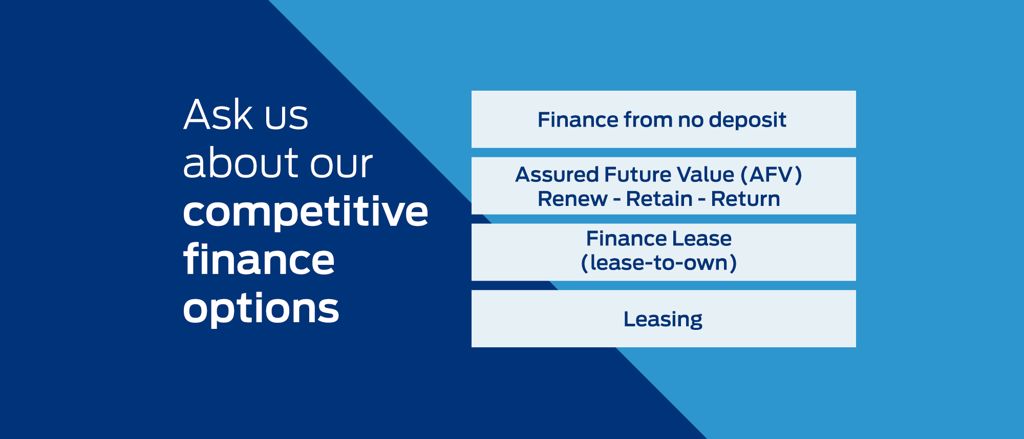 FINANCE YOUR NEW FORD
FAST - FLEXIBLE - COMPETITIVE
South Auckland Ford have experienced finance specialists who can assist you with the best options to finance your next vehicle purchase. The best part is there is no obligation; this service is free for you to take advantage of.
The process is quick and easy and approvals are given for most applications within 24 hours of being submitted, seven days a week.
VEHICLE FINANCE OPTIONS
CONSUMER CREDIT/BUSINESS FINANCE AGREEMENTS
A Credit Agreement is the simple and traditional path to financing vehicle ownership. Easy to arrange and with flexible terms to suit your needs, owning your new or used vehicle from South Auckland Ford has never been so convenient. Our Credit Agreements are flexible with repayment terms between 6 and 60 months, and deposits to suit. Payments can be structured to suit your individual needs, with your cashflow and budget taken into consideration.
ASSURED FUTURE VALUE FINANCE
With Assured Future Value (also known as "Guaranteed future value"), you'll have a flexible finance solution that gives you peace of mind from the moment you get your new vehicle. And your next one. Not only will you have the certainty of low fixed repayments, you'll also have three great options (renew, retain, or return) at the end of your agreed term. Plus you can renew at any time. It all means you can enjoy a new Ford more often.
How does it work?
Select a Model
Choose a Term (36 or 48 months)
Agree on the Kilometre Allowance so you only pay for what you use (maximums apply)
Choose a Deposit Amount (from no deposit)
We Calculate the Assured Value & Your Payment
This means your regular repayments will be less, as your repayments don't include the future value (the payments are based on the cost of the car minus the deposit amount and assured future value).
FINANCE LEASE
Finance Lease is often a preferred method of financing for businesses and GST registered individuals. Finance Lease allows purchasing the vehicle of your choice without diverting valuable working capital from your business. Lease terms can vary between 12 and 60 months and residual values and monthly rentals are negotiable.
OPERATING LEASE
Operating Lease is a popular choice for corporates. At the end of the lease you simply return the vehicle and drive away in a new model. There is no residual liability. Monthly rentals are usually 100% tax deductible. You can also have the option of a full maintenance package built into your monthly rental.
Contact Us
For more information, speak with one of our experienced finance & insurance team members on 0800 114 443.
Contact Us Apply For Finance Calculate Finance
The above information is provided as a general guide only. Please speak with one of our Finance and Insurance team for specific information including criteria, terms and conditions, etc. Under the Financial Services Legislation Amendment Act 2019 (FSLAA) we operate under an "information only" model meaning that we provide information about the facts and features of a product only. We are allowed to assist consumer borrowers in order to comply with our lender responsibilities (we have a number of obligations including to perform affordability and suitability assessments in relation to any proposed lending to help consumer customers make an informed decision about whether or not to enter into a loan contract), however, South Auckland Motors and its Staff do not provide regulated financial advice in relation to loans or insurance.